9 fall decor tips (that aren't super cheesy)
If you've searched for "fall decor tips" on Pinterest, chances are you've seen the same pumpkin and burlap infested tablescapes and porches that have always made me a bit nervous to decorate this time of year. Now, don't get me wrong, I've got nothing against burlap and pumpkins— it really wouldn't be this time of year without them. That being said, unless your home is already decorated in these warm tones, traditional autumn colors can sometimes stand out like a sore thumb. Here are a few tricks you can use to make sure your home really stands out this fall:
1.) Nothing Wrong with Neutral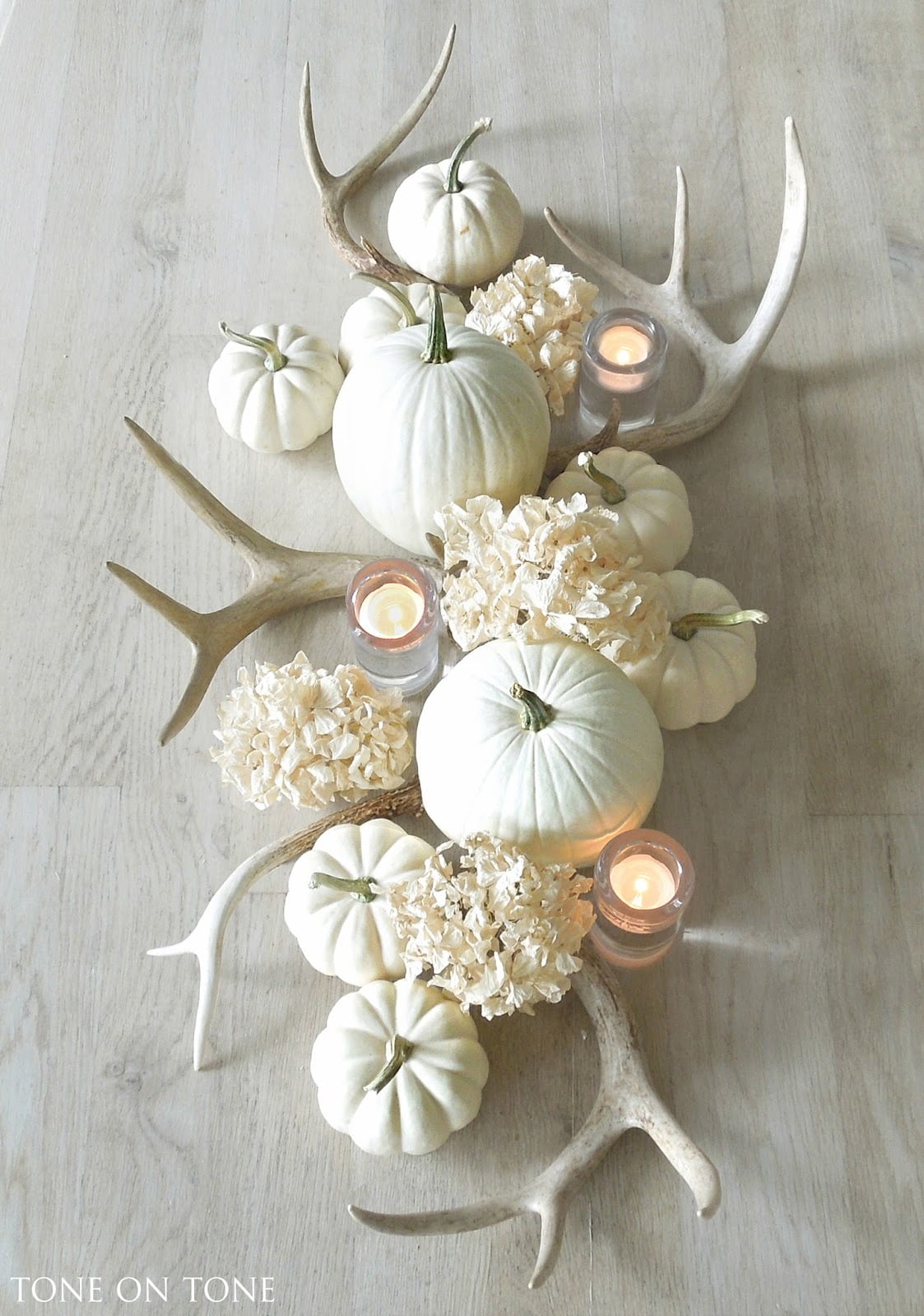 (source: https://www.pinterest.com/pin/424393964869554007/)
You create an entirely different look by simply taking those orange pumpkins and going white with them. You don't have to be boring here either, bring in the occasional pop of color to really make a bold statement.
2.) Go Green
(source: http://mollyone.blogspot.de/2014/10/baby-boo-my-favorite-pumpkin.html)
Try swapping out the typical fall hues with some greenery. This allows you to maintain that neutral appeal, but adds a bit of life to your decor.
3.) Bold & Boho
(source: https://www.pinterest.com/pin/424393964869554052/)
Create an unique style with your pumpkins by adding some Boho-inspired accents. Be sure to choose a color palette that complements your existing home's decor.
4.) Texture Up
(
source: https://www.pinterest.com/pin/424393964869554054/
)
As it starts to cool down, use
this shift in weather
to introduce some warmth to your home in the form of textures— think
comfy
blankets,
plush
rugs, and
decorative
table runners that will usher in the cozy. Keep your colors more neutral for a look that can easily transition into winter.
5.) Mix + Match Those Patterns
(source: https://www.pinterest.com/pin/424393964869554269/)
As you're thinking textures, also keep patterns in mind. Don't be afraid to mix and match patterns to create an eclectic, home-y feel.
6.) Think Outside the Wreath
(
source: https://www.pinterest.com/pin/424393964869554031/
)
I know, I DIY'ed my fall wreath about four years ago and was super proud of it too, but wouldn't you agree it's time to shake things up a bit? Try something a little less traditional by structuring your door-decor with an antler, tree branch, or something else with a natural aesthetic that inspires you.
7.) Squash It
Try replacing pumpkins with squash. The great thing about gourds (and other members of the squash family), is that you can find them in just about any shape, size, and color, making for the perfect fall accent.
8.) Pumpkin Pots
(source: https://www.pinterest.com/pin/424393964869554025/)
Admittedly, this can border on cheesy, but when done well, it's a real conversation starter. Try putting something inside that isn't necessarily a fall decor piece– like succulents, peonies, or fiddle fig leaves.
9.) Be Yourself
(
source: https://www.pinterest.com/pin/424393964869554236/
)
Not feeling our suggestions? That's okay! Ultimately, adding fall decor pieces that speak to you personally make your house an inviting, seasonal home. So try something new and let your creative spirit run wild!
-vg.